FIFC-FAPESP Joint-Seminar on Theoretical/Computational Chemistry
Abstract

"Multi-scale Simulation of Condensed-phase Reacting Systems 2016" (MSCRS2016) will be held in Nagoya University with support by JSPS and São Paulo Research Foundation (FAPRSP). Participants from Brazil (mainly from São Paulo) will visit FIFC to deepen the relationship between Brazil and Japan.
Three lectures will be held by Professors Sylvio Canuto (São Paulo University), Shigeru Nagase and Shigeyoshi Sakaki (from FIFC).
All of you are more than welcome.

Date

Oct. 13, 2016 9:30 ~ 12:45

Venue

Fukui Institute for Fundamental Chemistry, the room 106 (the 1st floor)
If many participants join, the large hall (the 3rd floor).
Program
09:40 Opening: Professor Kazuyoshi Tanaka (FIFC)
09:50 Lecture by Professor Sylvio Canuto (São Paulo University)
10:50 Lecture by Professor Shigeyoshi Sakaki (FIFC)
11:20 Lecture by Professor Shigeru Nagase (FIFC)
11:50 Closing: Professor Masataka Nagaoka (Nagoya University)
12:00 Photo
12:15 Visit computer room, Fukui Memorial Room etc.  
12:45 End
Lecture Room Scene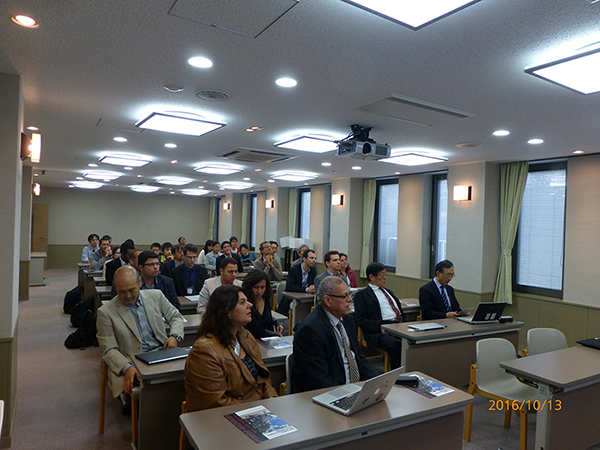 Updated on Oct. 18th, 2016